So, the super secret thing I was knitting is finally finished. It only took 4 months...
I suppose it could have been worse. About half way through, I realized that throwing was just too slow. I watched about fifty videos of speed knitters online and decided that I just HAD to learn continental style.
I have to admit, it seemed like quite the daunting task at first but the videos I watched were so helpful! I picked it up so incredibly fast and now I am officially a speed knitter.
So, if I hadn't learned continental, I would probably still be working on the shawl. Anyway, the shawl was a gift for my mom. Originally meant for her birthday back in February - I finished it just in time for Mother's Day. I cannot remember where I got the stitch pattern from, but it was called the Waterfall stitch. It's kind of a false cable stitch. It's really quite pretty and lacey. Thank you whoever created that stitch!
I also can't find the yarn wrapping, so I have no idea what yarn it is I used. That is definitely the disadvantage to working on a project for more than a month. I lose things or my husband throws things away. (He hates clutter). Anyway, here it is in all its glory!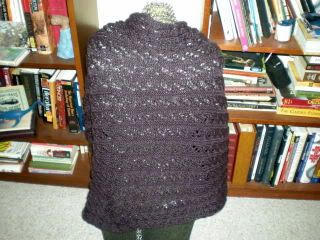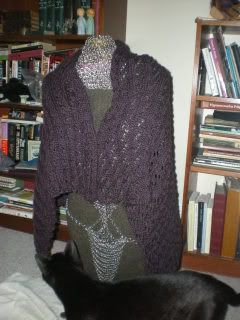 Pretty, huh?
I've got a pattern written for a cute cardigan I want to make with some bamboo cotton blend yarn I found. I'll have to let you know how it goes. :) No secret projects for the time being.
Thanks for reading.