The good news is...I managed to get the new digital camera software working. Yay! Bad news...I lost all of the pictures I took of all the scarves I gave people. Very bad news. I'm so upset about this. What am I going to do? Go around to everyone I gave a scarf to and be like..."Hey, can I get a picture of that scarf I gave you..." Yeah, no. So, all is left to the imagination unless someone wears one while I have my camera. :(
I took some new pictures of the zip up hoodie I am working on though, so you can see some progress. I'm doing stuff, I swear! :)
This is one of the front panels: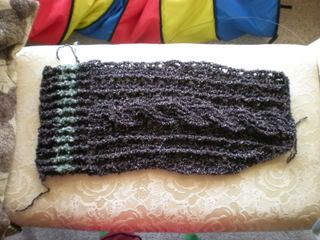 I like the way the cable looks, and it is going to look so much more awesome when I put it all together with the green cables.
Here is one of the sleeves (I like them long)
I might have to go buy more yarn, though I hope to avoid that as I'm sure the dye lots won't match. We'll see. Maybe I'll fanangle some way of incorporating more green, since I have so much of it. Go boucle!