I had an exlosion of creativity last night! Woooo! I tried my hand at watercolor painting. I gotta say, after my very first attempt I think I've got the hang of it. I will have pictures up soon. I made a nebula! :)
Other than watercolors, I've also been doing some little crochet work. I finally figured out filet crochet, and I made a cute heart table runner for my mom. (Again, pictures up soon). My crowning achievement this week though, was definitely the crocheted gladiator helmet I made. No pattern (again), just worked off of my head and a real helmet. This I have a picture of.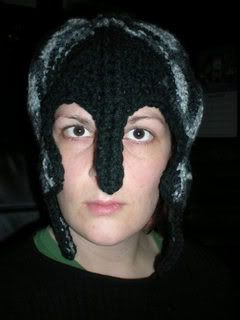 Don't look at my silly face...look at the helmet! I'm going to be making many more of these, in many more styles. :)
Look out for more stuff! I'm getting back in the groove...