Not that puff. This puff: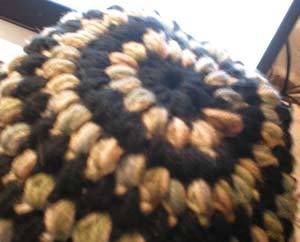 I finally did it. I made a hat. (For myself). :) After making all of those granny squares, the idea got into my head that puff stitches were the coolest things ever. I wonder why.
I needed to make a hat because I lost mine. It was also crocheted, but nothing as cool as this. Basically, it is puff stitches. That's about it. There were some increases and decreases in there, as I wanted it to fit closely to my head. I love winging these projects. They always seem to turn out well. It is so thick, it stands up by itself.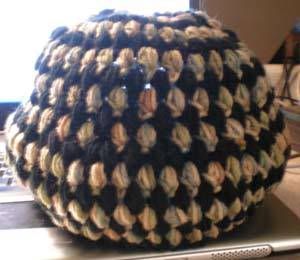 I don't know why my camera refuses to take proper pictures. The colors in this don't look anything like it does in person. It is black with a moss green to lavendar gradient. See? It fits perfectly!
You even get a glimpse of the hubster in the background. :P
So, the puff stitch is awesome. To do the puff stitch, yo, insert hook in indicated stitch and pull up a long loop. Do this three times. Yo, and pull through all seven remaining loops. Chain one to lock. Easy, right? It really is, and the texture is awesome. Try it!