Well, not really. I discovered granny squares! I absolutely love love love making these. They are small, fast, incorporate lots of different stitches, look cool, and you can make so much stuff with them. I love it. I've got totally batty and crocheted about a dozen of them. Granted...I screwed a couple of them up. I guess they are fixable, but they are still messed up looking. :( Boooooo.
So, it's show off time! I'll even show you a few of the retarded looking ones to show some humility. If you want the patterns for any of these, please visit
Crochet Pattern Central
and the two I remember...
Moon Granny Square
and
Sunburst Granny Square
. They are great patterns!
I don't know why, but my camera
refused
to capture the correct color. This granny is bright (and I mean BRIGHT) orange, Christmas green and white.
I love how the puff stitches look next to the cluste stitches. I totally dig it. Oh yeah, did I mention that I haven't woven in the ends yet? I really hate doing it. Oh, and none of them are blocked yet either.
This one is really beautiful. It was a little confusing at first, but once you figure it out, it is really really nice. This is the Moon granny square.
Here's a close up of the stitches. You tell me it doesn't look awesome. Go ahead.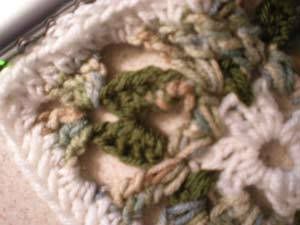 See? It's freaking awesome.
Here's one of the retarded ones. This one is easy enough to fix. I don't remember the name of this one, but I know it is on CPC somewhere.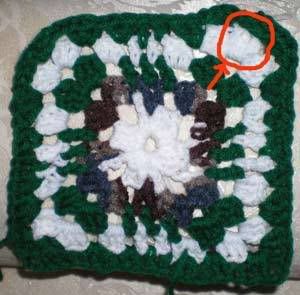 Not that you wouldn't have seen it without the red circle and arrow...
I screwed this one up too, but it isn't as noticable. This is somewhere on CPC too.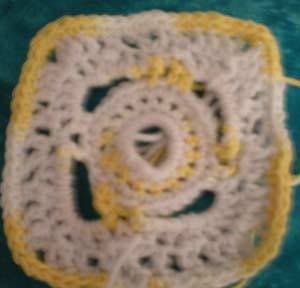 I love the colors on this one. This is the same as the Sunburst, just different colors. Awesome.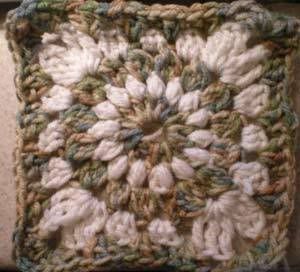 I like the stained glass look the black gives to this one. I want to make more of these...maybe bigger.
I have more, but it is late and I am tired. So, my new obsession. Oh yes. Still working on the lace. It is very time consuming and using a teensy weensy little steel hook and size 20 cotton thread is seriously a pain. But, it looks so nice that I want to do it, so I'll get it eventually. Oh yes, I will.