I totally promised some updates awhile ago, so here we go.
I've been busy. Very busy. I'm working on a present for a friend of mine who will be having a baby girl soon. I can't say what it is, because she reads my posts. :) Pictures to come after she receives the totally awesome, amazingly fantastic thing I'm making.
Anyway, I was commissioned to make a lace name thing for my Great Aunt, which turned out very nicely. I finally blocked something! Though, I ran out of pins so it is not perfectly even. Grr...
This was made with a size 10 cotton thread and a size 5 (1.9mm) steel hook.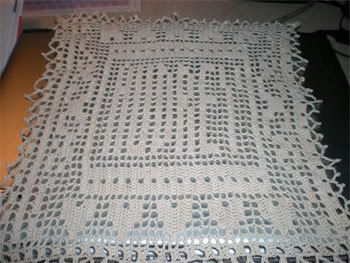 I also had the fabulous fortune to get a coupon in the mail from Jo Ann fabrics for 40% off. So...I took my time browsing the ridiculously priced yarn. I found some Patton's Merino in denim and immediately fell in love. I got a 5.99 skein for 3.50 something. Booyah! I got home and immediately began crocheting. I made some socks! I looked at patterns online, but I knew they wouldn't work for me with just one skein and two rather large feet. (I'm a size 11 womens. I know, it's weird.) Anyway, I got two very comfy socks out of a 3.50 skein of wool. I freaking love it.
These were made with Patton's merino wool and a 4mm aluminum crochet hook.
Awhile ago, I was working on a dog jacket for my parents' dog, Patrick. I keep forgetting to get a picture of it on him, but here is a detail of the stitch patten I used. Once again, totally original. I like doing the math part of crochet, what can I say? :)
This was made with 3 balls of Vanna's Choice yarn in Autumn and a 4.5 mm crochet hook.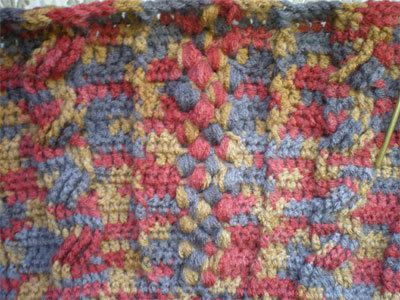 I am still working on a few other things. I'm making a really neat looking drop stitch blanket for our attic room. It looks really neat, and despite the very open shell pattern...it's pretty damn cozy. I'll post pictures when that one is finished. I'm totally going to make some bitching lace border for it. Oh yeah. I've also been commissioned to make several more of those lace name thingies. I don't have a name for them. They aren't really doilies, but they aren't big enough to be table runners. Therefore, they are thingies. I have to really move my ass on two of those actually. Damn. I'm suddenly very busy with commissioned crochet! I love it. Let me say again here that if you want something made...let me know. I love, LOVE doing this. :) Though, it would be nice to get paid for it. :P I'd love to crochet for a living. That would rule the universe.
Yeah, so I'm one of
those
people and take pictures of my cats. I have to share this one, because it epitomizes the very nature of cat-ness. This is The Peach It: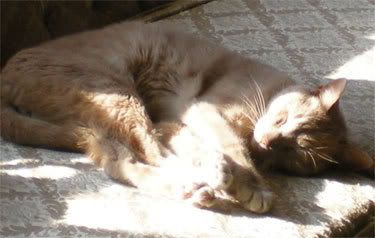 He's the handsomest, laziest cat I know. I have two other cats, but I won't bore you. Even though they are just as awesome as The Peach It.
Check back for more crocheted stuff. The weather is warming up and I'm thinking...tank tops. Oh
HELL
yeah!