And as usual, I've been super busy. So here's a fun (stupid) story for you...
So, I, thinking that I will make a bunch of cash, rent a space at a local "Craft Fair". I crochet a TON of stuff to sell and it all looks fabulous. I wake up at 6 am to get to the "Craft Fair" by 7 am. I get there and what do I see? Rows and rows of complete and utter CRAP. So, this "Craft Fair" turned out to be a "Flea Market" with customers to match. No wanted to buy high end handmade stuff...they wanted to buy someone's trash. It sucked. At least my sister was with me, otherwise I would have been bored to death!
So, I have to get rid of some of this stuff I made. My enterprising husband suggested putting it all in an eBay store. So, yeah. I did. Well, some of it anyway. :) Here's some of the stuff I made...
The Pineapple Doily!
This was made with cotton yarn...I guess sport weight? Here's a closeup. It's preeeetty.
I was getting tired of using the size 10 cotton thread, so I made this one with yarn that didn't cut into my flesh. Don't get me wrong...I really like making lace. However, I need breaks from it. I have so many calluses from the thread - it's just ridiculous.
Anyway, this is one piece that gave me calluses for sure.
The Super Fantastic Dragon Filet Crochet Thingy!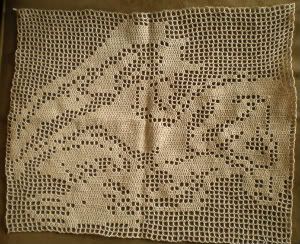 This is my very own pattern...and it was a pain in the ass! I mean...look at the thing! I'm still recovering, but soon I will make an awesome fleur de lis border, perhaps with a picot edging. :) It took forever to make this. I wasn't able to spend hours at a time on it, so I never really got into a rhythm. Shame. I kinda wanted to make another one of these so I could have them facing each other. Maybe with some kind of a family crest in the middle. I dunno. Right now, I just want my hands not to hurt!:P
This is one of the several granny square purses I made: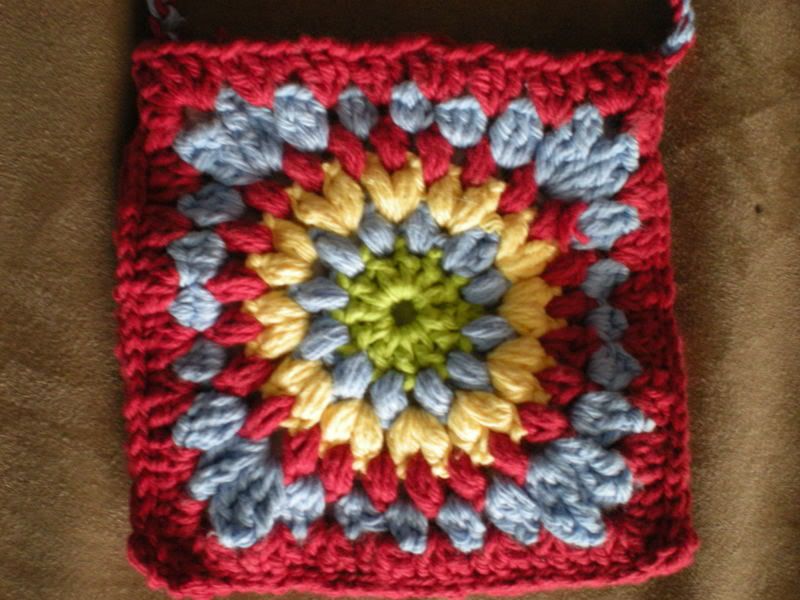 And the liner inside:
My mom stitched the liners for me and I think the purses are really freaking adorable. This is my favorite one. It's so colorful! I really like that blue with the red too. Makes me think of those Sweettart Ropes. Mmmmm...they are tasty.
Ok, so there is more, but Photobucket is really slow right now and my patience is wearing thin.
If any of you are interested...check out my eBay store. It's not just crochet. Not yet anyway. :P There's a ton of DVD's and some rare comics and stuff. One day I will break down and open an Etsy store. But...not yet. No. Not yet. Anyways, here's the Store!
Handmade Crochet and Collectibles