For the first time ever in my whole entire life...I tried to knit. It wasn't pretty. Casting on was easy. Then, I tried the knit stitch and failed miserably. M-I-S-E-R-A-B-L-Y. Stitches kept flying off the needle and the work was snaking around the other needle like a spiral staircase. Then, I dropped a stitch.
After the long and graphic string of curses finished their mass exodus from my mouth, I threw the needles down like a little kid and stomped off to the other room. Oh how I hate when I cannot do something.
I thought maybe I would just go work on the shawl for my mom, but that damn swatch drew me back in. Those needles weren't going to get the better of me.
I tried again, keeping the yarn looser than before. I finished one row, then another, then another...then thought, "Ok, I've got this. Gotta try to purl now." After the same episode was repeated twice I finally got that down too. Only problem was...I had two more stitches than what I had started with!
How the hell did that happen? I still don't know. If any of you knitters out there have any suggestions as to what happened and how to avoid it...I'm all ears.
Here is my sad excuse of a swatch: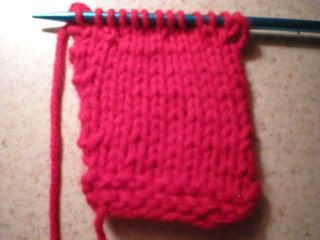 I don't think it's
that
bad, but the added stitches are bothering me. I need to know what I'm doing wrong. But, now I know stockinette and garter stitch. Woot!
On another note, I was finally invited to Ravelry! I think that is what really spurred on this whole learning to knit thing. Plus, I want to make some clothes and usually knit looks better than crocheted. I cannot wait to use Ravelry to it's full potential! :)
I've met a lot of great knitting/crochet/fiber arts people on Plurk. They have been very helpful and supportive cheering me on. I love my Plurky friends!
To honor Plurk and all of its goodness, I decided to make some Plurk creatures. Here's the one I've finished:
He's cute! I found out that I really suck at sewing. So, one more thing to practice! He turned out ok, but he's missing something. I just don't know what yet.
That's all for now, but you can bet there will be more updates soon! And pictures of the beautiful broomstick lace shawl!